I'm linking up with
A Blonde Ambition
again for Confessional Friday! Get excited...haha!
1. I want to do last weekend all over again (ok, this is an obvious statement, not a confession, but whatev)!! This time last week, I was on my way down to Charleston with 7 of my besties! This weekend, I am not. BOO.
I wanna goooo baaaack!
2. I made the most bomb-dot-com meal for dinner last night!
Thanks pinterest (yet again!) for another superb recipe! Although, if you make it, be sure to add some extra hot sauce!!
3. Speaking of food, I need to STOP buying 100 calorie packs! I always eat like 6 of them, thinking, "Oh they're just 100 calories." Yeah, if you eat one...which I cannot do!
4. I got a new student (yes, with 34 days of school left!) on Monday, and bless his heart, he knows one letter sound. ONE. Umm, I think I'm a pretty good teacher and all, but I don't know how much I can teach this poor baby before he moves on to first grade. Sad times. If you have any *miracle* teaching strategies, let me know!
5. After today, only 7 weeks and 34 days left of school!
I think I can, I think I can...
6. ...and only 57 more days till my wedding! I need to get my butt back in gear! Spring break was so productive...
I made...
140 ribbon wands!
"Meet the Maids"...not sure why the picture won't turn right!!
birdcage for cards
signs for flip flop baskets
sign for those dang ribbon wands
signs for "Meet the Maids" and "Meet the Men"
I also got our guest book embroidered and made signs for the guest book and cookie buffet! WHEW!
However, I still have SOOO much to do in the next 56 days, and I seriously haven't done anything for about 2 weeks now! Time to get it in gear people!!!
7. After making all of those stupid ribbon wands (ok, they're not stupid, but I really hated them after 2 nights in a row and 20+ bolts of ribbon...and ribbon is not cheap!), I woke up the next morning with my wrist hurting. Hmmm...maybe I slept on it funny. But oh no, it still hurt (and was getting worse) a week later. My mom (a nurse practitioner) told me I had tendinitis in my wrist! WTF?!? I'm pretty sure it was from making all of those ribbon wands! So now, I get to wear one of these....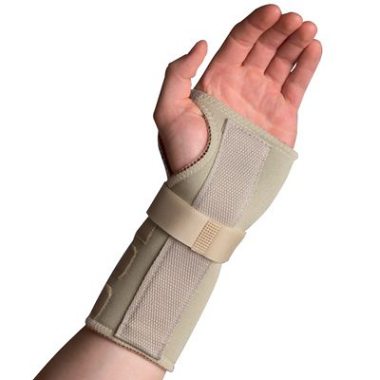 Don't be jeally!
Between this and my knee strap, I feel like I am 26 going on 86. Just call me Grandma.
It was filmed right here in Charlotte! Travis started watching it last weekend while I was away, and he saw our church on there!!! How crazy!!! They filmed someone's funeral there...ok so not super romantic, but they showed the inside and everything! It was kind of cool!
9. I realize that pretty much all of what I just wrote is not any sort of a confession, but my random thoughts instead. Sorry. Next time, I'll change the title to "Random Thought Friday!"
Have a super weekend friends!!!