I want to try to post every Wednesday about my faaavvvorite thing ever (and a big reason why I started this blog)...wedding planning!
I came home the other day to a large package! I thought it was the k-cups I had ordered, but no...it was my invitations!
Here is what they look like:
(from the website, you'll have to wait to see the actual ones with our names and wedding date on it!)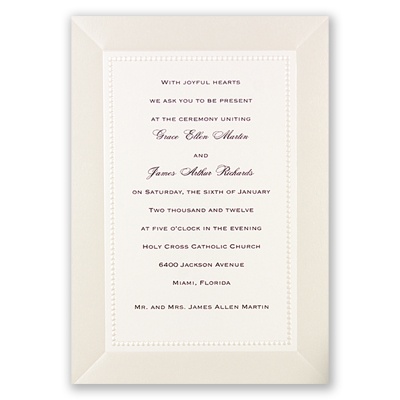 I know they seem plain, but that is what I wanted. I wanted them to be timeless, so I could frame them, and not look back and say "OH that's SOOOO 2012"(That's basically my mantra for the entire wedding). My parents have similar wedding invitations and I like how they still have one hanging up and it doesn't look dated!
We ordered 100 invitations, inner envelopes, outer envelopes, reception cards, response cards and response envelopes....they each came in their own little box inside of the big box! Now I just have to figure out how to put them all together...! (ahem Kathryn?? help?!)
My second exciting wedding-related thing (well to me anyway) is discovering Vistaprint!!! I used them for my save the dates back in the fall, and I was really happy with how they turned out!
Lucky for me, I recently found a Groupon (for some random city in Texas...they were posting about it on theknot message boards!) for Vistaprint...$70 worth of stuff for only $17!!! I MAAAYY have bought 2....
I used the first one to buy directions cards (boring) and these super cute sticker labels:
I am going to put them on paper bags (Carolina blue of course) for people to put candy in at our candy buffet!
I can't wait to use the next $70 Groupon! I think I'll buy ceremony programs, maybe a big sign, maybe escort cards....? Ahhh so fun!
Last, completely un-wedding related, I made a new recipe tonight!
Since it has been soooo cold here (and we STILL haven't turned our heat on!), I wanted to make something that would warm me up! It was super easy and pretty good, although I'd definitely recommend adding some spices (I added paprika, creole seasoning, poultry seasoning and salt and pepper).